---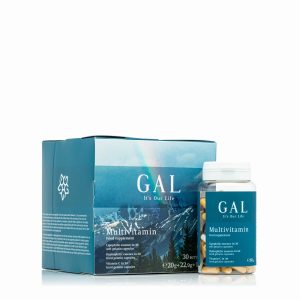 GAL Multivitamin

Our GAL Multivitamin and GAL+ Multivitamin, as well as GAL Prenatal and GAL+ Prenatal Multivitamin products, were developed as a consequence of the latest research, whilst keeping natural absorption and wholesomeness in mind. This means that the product contains all vitamins, minerals and trace elements in the same ideal form, quantity and ratio as one would consume in the course of constant, diverse and nutritious food intake. All of these agents are forms that can be found in nature; most of them are extracted from organically grown (bio) herbs and spices, so they also contain co-factors, the presence of which in these plants - besides the vitamins/minerals - is beneficial. Furthermore, it is vitally important that no egregious content which might disturb the natural course of the new life is tolerated. Our products satisfy all of these criteria.

Although all used agent forms have excellent absorption capability, we enhanced it with BioPerine®. We've also ensured not to mix water-soluble and fat-soluble ingredients so that they exist separately in the matrix ensuring ideal utilization and stability for them.


Ingredients

GAL Multivitamin Lipophilic essence drops:
MCT oil (from coconut and/or RSPO-qualified palm oil), d-alfa tocopherol and mixed tocopherols, RSPO-qualified red palm fruit extract with high carotenoid and tocotrienol contents, sage extract, olive oil with 2% menaquinone 7 content, retinol palmitate, phylloquinone,
cholecalciferol.

GAL Multivitamin Hydrophilic essence stomach acid resistant vegan capsules:
L-ascorbic acid, zinc-bisglycinate, thiamine hydrochloride, selenium yeast (inactive), pyridoxine hydrochloride, d-calcium pantothenate, sodium borate, niacinamide, riboflavin, copper gluconate, bio brown algae, bio bamboo extract, BioPerine® black pepper extract, bio mustard seed extract, pyridoxal-5-phosphatase, bio vegetable extract matrix (mix of amla and guava fruit, saint basil and curry leaf and lemon peel extracts), biotin, chromium picolinate, methyl folate calcium salt, capsule shell coating: stomach acid resistant, natural gellan gum, potassium iodide, sodium molybdate, methylcobalamin.
Recommended consumption for adults: Take 1 capsule + 26 drops daily. You can take the recommended dosage in its entirety at the same time, but it is important to take it with a meal. It is preferable to take it in the morning or during the day, rather than in the evening. Drops can be taken at the same time or distributed across daily
meals (e.g.: 2 x 13 drops).
Reviews of the product
Be the first to review this product!