GAL Bimuno® flora fiber complex 150 g (60 doses)
---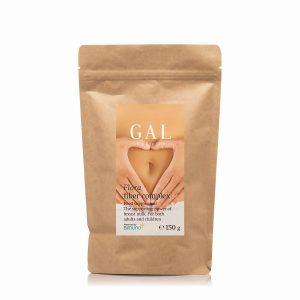 Digestion/intestinal system
Studies have shown that the gut flora measurably may improve within 1 week (the number of Bifidobacteria increases significantly).

It not only could increase the number of "good" bacteria but also could decrease that of "bad" bacteria.

It is the probiotic that causes the least bloating; it is not a FODMAP, and can be used in case of SIBO, unlike other probiotics.

It could help prevent sickness during travelling and intestinal infections when travelling abroad.

Over time, it may help decrease susceptibility to constipation and/or diarrhea.

It could improve the gut flora of IBS patients and decreases their symptoms.
Recommended consumption for adults: 1 or 2 teaspoons (2.5-5 g) per day, dissolved in liquid. For children: proportional to body weight. It is best to consume these at least half an hour before eating or at least 2 hours after eating. In the Bimuno® Flora Fiber Complex, Bimuno® is mixed with a small amount of micronised bamboo fibres for easier consumption, which is also a good complimentary substance for Bimuno®: bamboo fiber is a "non-scratching", gentle, non-fermenting, non-probiotic fiber.
Reviews of the product
Be the first to review this product!