GAL Collagen Peptides 300g (30 doses)
---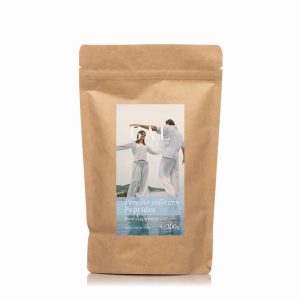 The most absorbable form of collagen is peptides which are ten times higher than regular collagen. Type 1 collagen.
Collagen supplements good for
Skin and hair
It may decrease the depth of larger wrinkles and help remove small wrinkles                        
It may increase hydration and firmness of the skin                                                                    
Increases levels of collagen and elastin in the skin, providing   greater  elasticity        
It might increase the measured level of haemoglobin in the skin, resulting, in better microcirculation
It may reduce facial sebum and thus reduces the occurrence and  severity of acne
It may enhance and speed hair growth resulting in thicker and  stronger hair                           
It might reduce seborrhea (greasiness of hair) and decrease  dandruff                                     
It might reduce androgenic thinning and hair loss (in both men and women)                 
Miscellaneous
It may reduce joint pain                                                                                                            
It may increase the efficacy of sleep (due to its glycine content)                                               
It might increase learning abilities, memory and recall functions without stimulation (glycine)         
Recent studies indicate it might increase in the production of new neural cells in the cerebrum   
It may help to decrease appetite by balancing the hormones produced in the digestive system
It might improve peripheral blood circulation (scalp and fingers)
Recommended consumption for adults: 10g (1 heaped tablespoon.) 1 or two times per day. It is best consumed with breakfast and/or before going to bed. It can be mixed into any kind of liquid, even into a hot soup. Its taste can be easily masked. A tasty drink can be made by mixing the product into warm water, milk or coconut milk, sweetened or flavoured with vanilla.
Reviews of the product
Be the first to review this product!