GAL+ Prenatal Multivitamin (new)
---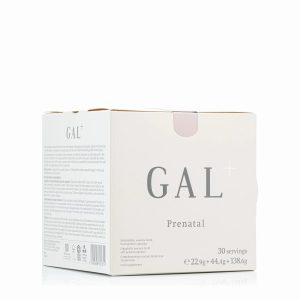 GAL+ Prenatal® Multivitamin

(Water-soluble ingredients in two smaller capsules instead of the former 1 large capsule which fosters the complete relaxation of the digestive system. In the following, Choline drops will be found in a separate product for more unrestricted dosing.)

We developed our GAL+ Prenatal® product in light of the latest research, bearing in mind the need for it to be natural and life-like, that it should contain every vitamin, mineral and trace element in ideal form, amount and proportion, not deviating from how we would obtain all these following a steady, nutrient-rich, varied diet. Where beneficial, the vitamins and minerals partly come from organically farmed medical herbs and spice extracts. In terms of amounts, we deemed it important all along that the daily intake must contain the dosage found effective but on no account should it exceed realistic amounts, i.e. the amount that could be covered by nutrition. In addition, it's extremely important that nothing that doesn't belong there hinders the development of a new life. No trace of such thing will you find in our product.

We recommend taking GAL+ Prenatal® from the first notion of planning to have a baby, starting ideally at least three months before conception and all the way to the end of breastfeeding, or even longer.

Do not take iron only if you have verified iron deficiency but even then it's worth having it re-tested after taking GAL+ Prenatal® for 1-2 months because it might sort out iron levels without taking iron, especially if you eat liver or take lactoferrin regularly. Our product doesn't contain vitamin B3 since almost everyone's diet has plenty of it and a surplus would be disadvantageous for many.

Daily intake: 1 Lipophilic oil capsule (brown) + 2  Hydrophilic powder capsules (orange) + 5 ml (4,4 g) complimentary drink powder.

Suggestions for use:

Lipophilic oil and Hydrophilic powder capsules: Can be taken during meals with a few sips of liquid, preferably with breakfast or lunch, not dinner. You can take all three capsules at the same time but knowing their high vitamin and mineral substance content it's favourable to take the two identical hydrophile capsules with separate meals so digestive discomfort can be avoided by even those with a sensitive stomach.

Complementary drink powder: Dissolve in liquid. Although it can be drunk in one go, for maximum utilization it's better to take it divided into portions. To be consumed within 8 hours of dissolution so it is advisable to make 2 separate doses, each consisting of 2.5 ml powder, and take one in the morning and one in the afternoon. This allows you to take it to sip by sip, comfortably during the day.

Choline has been removed from the product, as our experience from feedback and recent studies on choline point in one direction: the type and method of optimal choline supplementation are different for each individual. For some people lecithin, for others, choline salt or other sources of choline are the most appropriate. For example, if someone consumes plenty of quinoa and/or egg yolk/liver, it may be unnecessary to supplement it. For more information on this and your individual choline needs please check our website at choline.galvitamin.ie.

Do not exceed recommended daily intake. This product does not replace a balanced and varied diet and healthy lifestyle. Keep out of reach of children.
Do not exceed the recommended dosage! The product is not a substitute for a balanced and varied or healthy lifestyle. Keep out of the reach of children.
Reviews of the product
Be the first to review this product!