GAL UC-II Cartilage, Joint Complex (two months supply)
---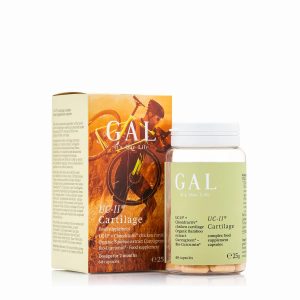 GAL UC-II® Cartilage Joint complex, Dosage for 2 months 60 capsules
UC-II® + Chondractiv® chicken cartilage + Organic Bamboo extract Curcugreen® Bio-Curcumin®
The most important ingredient of the product is the primary substance patented under the name UC-II®, extracted from raw chicken brisket cartilage.
As opposed to other cartilage extracts/collagens, it contains type II collagens
in so-called non-denatured (raw) form, stabilized, so it would not get denatured or digested in the digestive system. In unchained (raw) form it is able to reach our lymphatic organs, the so-called Peyer's patches in our small intestine.
Directions for use:
Every day before going to bed take 1 capsule on an empty stomach.
Do not exceed the recommended dosage! The product is not a substitute for a balanced and varied or a healthy lifestyle. Keep out of the reach of children.
Reviews of the product
Be the first to review this product!