GAL Q10+MCT oil (50 doses)
---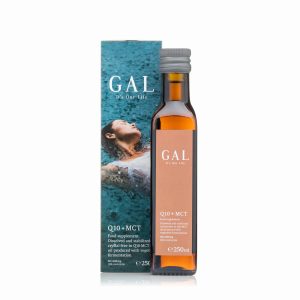 GAL Q10+MCT oil, 50 x 100 mg Q10-coenzyme, 250 ml
Dissolved and stabilized crystal-free in Q10 MCT oil produced with vegetable fermentation.
Q10 exists in two forms, reduced (ubiquinol) and non-reduced (ubiquinone) forms. The only reduced form can be produced naturally (in the ideal case through vegetable fermentation), but otherwise, both in our organism and in food both forms are present, and we need both of them. The reduced form is highly sensitive to heat, acid and light, it is already oxidized by stomach acid. This way, only the unreduced form can be taken through the mouth. It is then transformed as needed by the organism into reduced form, therefore- although we only get in oxidized form - roughly the same amount of ubiquinol and ubiquinone circulate in our body.
Reduction is done by our antioxidant system, which, if supported just by proper nutrition and for example by taking some vitamin C is sufficient to do the job perfectly, it is not necessary to take the reduced form, which would be useless through the mouth anyway. Q10 is a crystalline material that does not dissolve in an aqueous medium, but even in an oily medium dissolves only if warm, while without crystal exemption its absorption is sparse. In our product, we use a simple yet so far not applied by others new solution to eliminate this problem: we created a Q10 solution of the highest possible concentration, capable of keeping Q10 in a crystal-free dissolved state in a broad temperature range. We dissolved in MCT oil produced from palm seeds originating from sustainable farming. so that absorption would not be a problem even in case of insufficient bile production. In order to ensure stability and to support the adequate reduction of Q10 within the body, we also added our unique antioxidant system consisting among others of a so-called supercritical extract of Greek sage leaf, red palm fruit, as well as tocopherols and tocotrienols extracted from vegetable oils.
Recommended consumption:
It is recommended to take 5 ml at a time. It can be repeated multiple times a day. It is best to take it with meals; it is also OK to take it between meals, but in this case, it may be absorbed less efficiently. For some people, larger quantities of MCT oil may at first cause diarrhoea or gripes, so if you have not had MCT oil before, you probably should start with 1 teaspoon, and increase the dosage slowly by the day.  So, if you have not taken MCT oil before, it is recommended to start with 1-2 ml on the first day, and increase to 5 ml or above only after a few days.
Do not exceed the recommended daily consumption! The dietary supplement does not replace a balanced diet or a healthy lifestyle.
Reviews of the product
Be the first to review this product!