---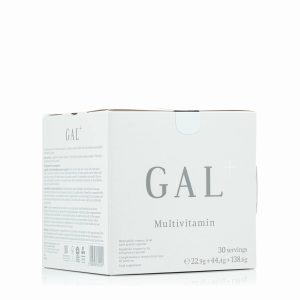 GAL+ Multivitamin

Our GAL+ Multivitamin product was developed as a consequence of the latest research, whilst keeping natural absorption and wholesomeness in mind. This means that the product contains all vitamins, minerals and trace elements in the same ideal form, quantity and ratio as one would consume in the course of constant, diverse and nutritious food intake. All of these agents are forms that can be found in nature; most of them are extracted from organically grown (bio) herbs and spices, so they also contain co-factors, the presence of which in these plants - besides the vitamins/minerals - is beneficial. Furthermore, it is vitally important that no egregious content which might disturb the natural course of the new life is tolerated. Our products satisfy all of these criteria.

Although all used agent forms have excellent absorption capability, we enhanced it with BioPerine®. We've also ensured not to mix water-soluble and fat-soluble ingredients so that they exist separately in the matrix ensuring ideal utilization and stability for them.


Daily dosage: 1 lipophilic oil capsule (brown) + 1 hydrophilic stomach acid resistant, vegan powder capsule (orange) + 5ml (4.3g) complemented instant drink + 20 choline drops

Directions for use

Lipophilic oil and hydrophilic powder capsules: Take 1 of each of the two types of capsule, preferably with breakfast or lunch, rather than dinner. They can be taken at the same time or separately. It seldom occurs, but should the powder capsule cause any discomfort of the digestive
system due to its vitamin or mineral contents, we recommend taking it directly before a meal.

Complemented instant drink: For the best utilization it is best to consume over a time period (e.g.: 5 x 1ml or 2 x 2,5ml), but the daily dose can be consumed in its entirety at one's discretion. You'll find the measuring scoop in the box. It is recommended to take it with or after the meal, or over a daily timeline (e.g.: 5 x 1ml).to offset any discomfort to sensitive or acidic stomachs.

Choline drops: Consumption of 20 drops per day is recommended. It can be taken at one's discretion daily, with or without a meal. It can be dropped into any liquid or on any food. Do not ingest it without diluting it first, as it has quite a strong taste! It is not sensitive to heat, so it can be mixed with hot food. As it is salty, you can use it to replace your salt sprinkle.

Summary: You can consume everything (capsules + instant drink + drops) concurrently with any meal, but if your digestive system is sensitive and/or you wish to make the most of the product, then it is recommended spread the intake of the instant drink over a longer period of time.

Do not exceed the recommended dosage! The product is not a substitute for a balanced and varied or a healthy lifestyle. Keep out of the reach of children.
Reviews of the product
Be the first to review this product!